The Bullitt Center is an ambitious experiment to create a new paradigm for 21st century buildings. The realization of this building is a story of how a visionary building owner, an integrated design and construction team, supportive regulatory agents, and progressive financial partners came together with a common purpose to achieve an extraordinary result.
What is the Bullitt Center?
This building manifests the vision of Denis Hayes, president and CEO of the Bullitt Foundation. It was his tenacious advocacy for the idea of a living building, and his conviction that the mission of the Bullitt Foundation would be served well through this large commitment of the Foundation's resources to create a model for a completely new kind of building, one aimed at catalyzing a radical shift in our thinking about what's possible for buildings of the 21st Century.
The Bullitt Foundation chose to pursue the rigorous Living Building ChallengeTM (LBC) because it requires net-zero energy, which drove the entire design process. Achieving net-zero for a six-story commercial office building in Seattle means achieving energy efficiency improvements of upwards of 75% compared to a typical commercial office building (Energy Star score of 50), or 62% better than Seattle's energy code. Other LBC requirements include net zero water and net zero waste.
How does the building perform?
The building is designed to use 16 kBtu/sf/hr - that's 82% less than the 2010 Seattle Energy Code minimum: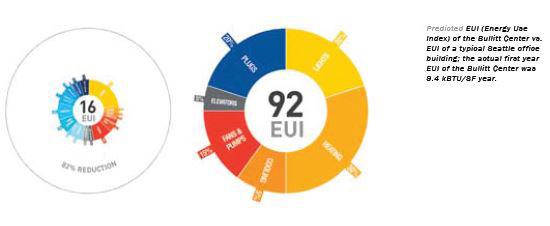 The design strategies employed in the Bullitt Center are relatively common in modern buildings, and use readily available technology. However, only a handful of buildings have fully integrated the state-of-the-art technologies and high-performance design strategies employed in the Bullitt Center, and none are as large and as ambitious in their performance goals.
This is an extremely ambitious goal, all the more for a building aimed to be cost-competitive with other Class A commercial office buildings in Seattle. The Bullitt Center is a work-in-progress, an experiment whose results are just beginning to emerge.