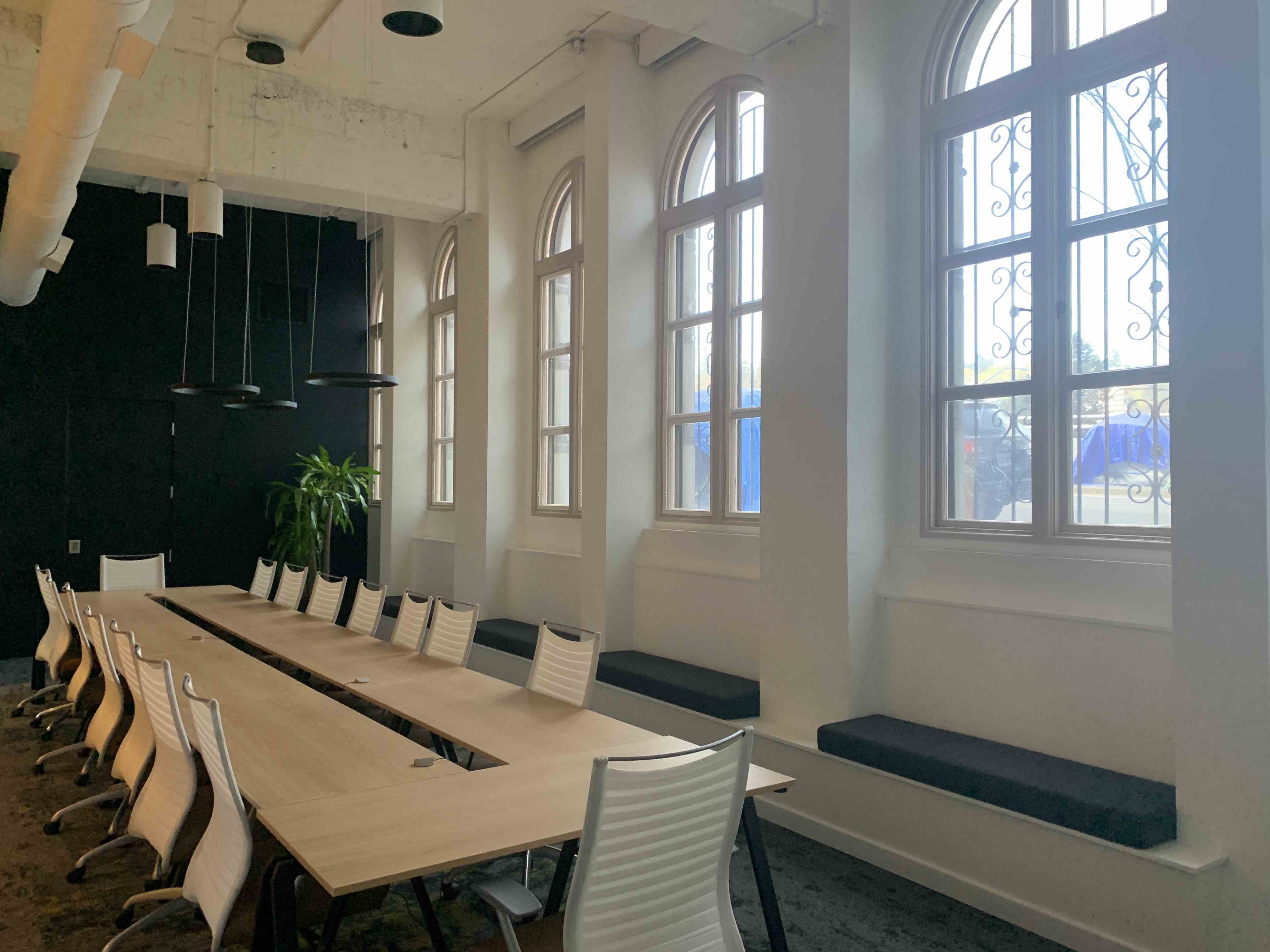 By Rick Dunn, senior project manager at the Northwest Energy Efficiency Alliance
The energy and non-energy benefits of commercial secondary windows (CSWs) are manifold. In addition to reducing energy consumption by 13% or more, improving overall envelope performance by up to 30%, reducing air leakage and exterior noise infiltration, and enhancing property value by maintaining views, they can also greatly improve thermal comfort throughout a building. When considered in conjunction with HVAC system updates, CSWs can further allow for significant HVAC down-sizing, which reduces capital and operational expenses.
CSWs are installed over existing primary windows, making them a more affordable and less intrusive solution than a full window replacement. This relative ease of installation presents an economical option for buildings to comply with Building Performance Standards (BPS) and energy disclosure requirements while addressing a building's most challenging need: envelope improvement.
The Northwest Energy Efficiency Alliance (NEEA) recently conducted a series of field tests to evaluate the energy and non-energy benefits of CSWs, explore suitable applications, and understand the installation process. The following results come from one of NEEA's test sites in a mild climate. NEEA will publish a full report from all test sites later this year.
Thermal comfort.
CSWs enhance thermal comfort in all climate types, from mild to extreme. Though extreme climates produce the most uncomfortable indoor environments, mild climates also generate thermal discomfort, particularly in pre-1990 buildings with single-pane glazing. Thermal-image testing conducted by NEEA demonstrated the effectiveness of CSWs in mild climates by measuring exterior and interior window surface temperatures on a single-pane window. On a day with an outdoor ambient temperature of 63 F, the exterior surface temperature for a window facing the sun registered 125 F, and the interior surface temperature registered 107 F. Despite the pleasantly mild outdoor temperature, occupants sitting near windows dealt with extreme discomfort from the direct sun exposure. However, after the CSW installation, a black globe temperature sensor registered 73.9 F at the desk nearest the window—a reduction of 13.5 degrees compared to pre-installation conditions.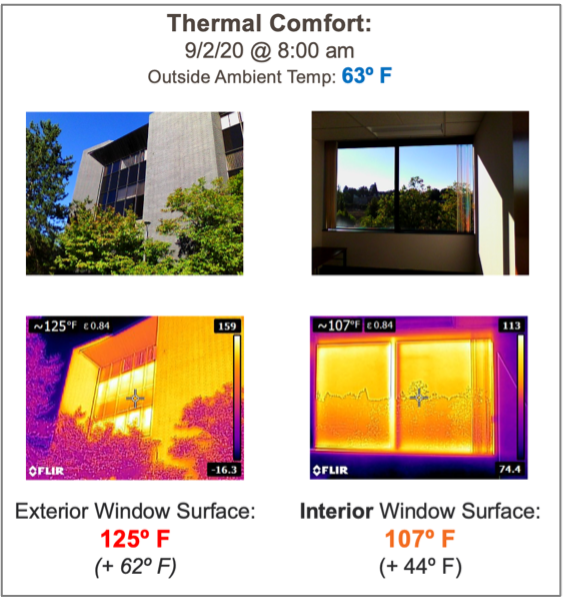 Noise reduction.
NEEA's field tests further evaluated the acoustic benefits of CSWs by measuring ambient exterior and interior sound levels before and after the CSW installation. In addition, NEEA conducted a controlled sound test using various frequency sound waves at 90dB. The field tests showed that CSWs achieved an additional 6.9 dB reduction (12.5%) in sound transmission under ambient conditions, and an additional 5.7 dB reduction (11%) on average at the 90 dB exterior testing condition.
Air leakage.
To evaluate CSW air-leakage reduction, NEEA conducted a blower-door test that demonstrated a whole-building leakage rate reduction of approximately 7.5%. This air-leakage reduction can help to further reduce energy use and enhance occupant comfort.
Whole-building and HVAC energy savings.
NEEA calculated CSW energy savings by running a calibrated energy model utilizing typical weather data to create weather-normalized energy estimates: one with the existing window specifications, and one with the updated CSW specifications. Based on the energy model results, the installation of CSWs is expected to reduce whole-building energy consumption by 13.4% (944,634 to 818,121 kWh). Peak cooling load is expected to drop 14% from 78.3 tons to 67.4 tons, representing a permanent improvement that could allow for downsized HVAC equipment during a future retrofit.
In addition to reduced year-round energy consumption and potential HVAC downsizing, CSWs offer multiple direct and indirect savings opportunities, including:
Reduced peak load reduction, which can yield even more savings when utility rates may be higher.
Maximized natural daylighting, which can reduce lighting demands and energy use.
Earned utility incentives, which can potentially be based on overall energy savings and/or peak-load reductions.
Project cost.
There are a wide variety of CSW products and related features available on the market, including single-pane, double-pane, operable, non-operable, low-E coatings, custom-frame designs, interior and exterior mounting options, and those installed by the manufacturer or a third party. Given this variety and the diversity of building needs, it's not possible to give a representative price range without knowing the specifics of a given building. However, when compared to the cost of fully replacing primary windows, CSW costs can save building owners 10–25% on total installation costs.
Easier compliance with BPS.
Today, more than 40 states, cities and jurisdictions have implemented whole-building BPS to reduce energy use intensity (EUI) or Greenhouse Gas (GHG) emissions. To comply with these standards, building owners must often undertake deep and expensive energy retrofits. CSWs offer an ideal solution, as they can cost-effectively improve the building envelope, which is often the worst-performing part of a building from an energy-loss perspective. From an installation standpoint, full window replacements are usually time intensive and disruptive to building occupants, while CSWs can be installed with minimal or no disruption to tenants or to normal building operations. And because CSWs have a beneficial impact on other energy-consuming systems like HVAC and lighting, they can further reduce or avoid the cost of additional retrofit projects.
To learn more about the benefits and considerations of CSWs, visit: https://betterbricks.com/solut...