Dedicated Outdoor Air Systems
Packaged roof-top units (RTUs) need replacing every 10-15 years. Replace your aging RTU with a VHE DOAS system, a cutting edge, new HVAC system that separates the ventilation from the heating and cooling, allowing you to downsize your heating and cooling equipment and brings in fresh, outside air. This new system includes a high efficiency heat recovery ventilator (HRV) that dramatically lowers heating and cooling costs, when coupled with a 'right-sized' high efficiency heating and cooling system. VHE DOAS improves air quality, increases comfort and uses less energy than conventional RTUs.
VHE DOAS Benefits:
Better air quality (IAQ)
Increased comfort
Reduced maintenance costs and requirements
Simplified controls
Lower HVAC energy costs
Meets 2017 Washington code requirements for new construction or retrofit HVAC installations, which requires Dedicated Outside Air Systems (DOAS)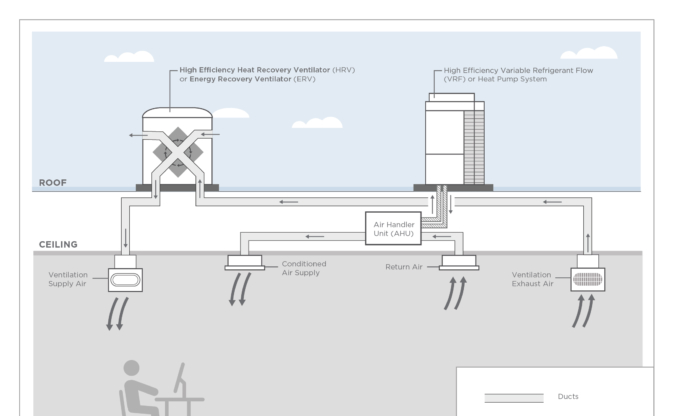 How It Works
The illustration to the left demonstrates how VHE DOAS works when installed on the roof of your commercial building.
For more information on this system, download your copy of the technology overview.
*Drawing is for illustration purposes only and does not represent the sizing or depth of the system or frame for all manufacturers' products. Check with manufacturer for exact measurements and specifications.
High-Performance HVAC Can Reduce Energy Use in Commercial Buildings by Over 40 Percent
Heat Recovery Ventilator (HRV)
Separate ventilation is necessary to be able to downsize the overall system significantly. The key to this highly efficient system is the heat recovery ventilator (HRV). The aluminum micro-channel counter-flow heat exchanger pre-heats incoming supply air with outgoing exhaust air, keeping the temperature differential between supply and exhaust between 3-5 degrees, so the heating and cooling system doesn't have to do much work to condition the fresh, incoming air; it's already close to the indoor temperature and well within ASHRAE guidelines.
The HRV pictured to the left is from Ventacity. Ventacity's HRVs can have an efficiency of over 90%'; substantially higher than other HRVs available in North America right now, where standard efficiency is around 60%.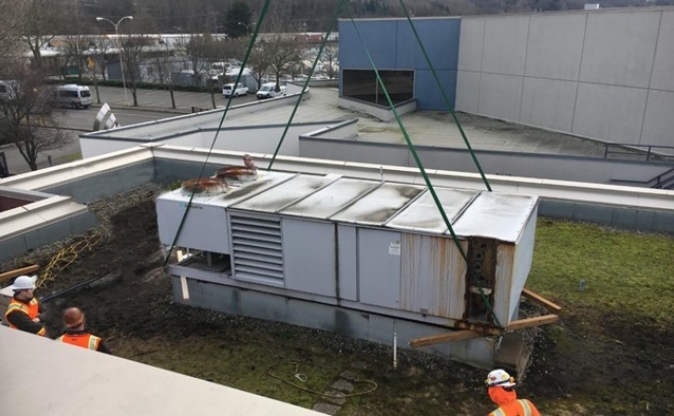 Right-sizing
To the left, an old packaged RTU is removed to make room for a new VHE DOAS.

In a typical RTU, the compressor is located at one end of the unit and condenser coils are wrapped around it or in close proximity. Low-pressure refrigerant arrives at the compressor as a gas. It compresses into a hot, high-pressure gas as it flows into the condenser coil, giving off heat. The coil acts as a heat sync and the condenser fan blows the waste heatup and away from the building. The return air travels through the ductwork into the rooftop unit, while some fresh air is added for ventilation purposes.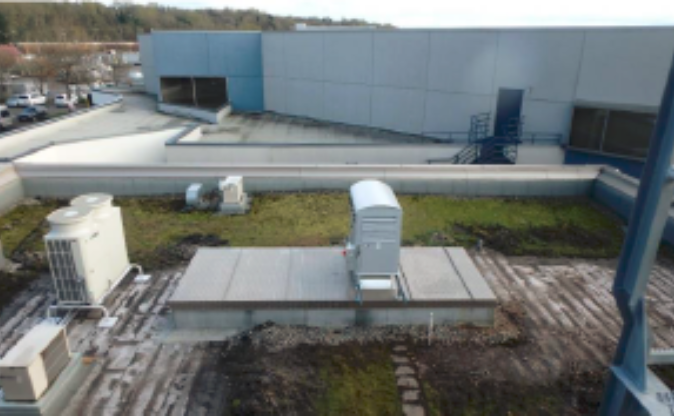 To the left, a new VHE DOAS is pictured in place of the old RTU.
Conventional DOAS is based on the fundamental concept of separating ventilation from the heating and cooling system.
VHE DOAS improves upon this by coupling a high efficiency heating and cooling system with a very high efficiency heat recovery ventilator (HRV). Separating heating and cooling from ventilation allows for less air to condition, which means a smaller heating/cooling system and smaller fans.
Case Study
The aging HVAC system at the Oregon Department of Fish & Wildlife's district office complex in Corvallis resulted in high energy costs and limited comfort control for tenants. The HVAC system struggled to provide consistent temperatures across 13,200 square feet of conditioned floor area, made up of four separate buildings sharing concrete walls and the various zones within the buildings. The building managers knew any retrofit project would be difficult due to the complex's unconventional arrangement.
Case Study
Although a two-story, 1930s airport terminal building in Seattle underwent a major renovation in 2002, the HVAC was largely untouched. The duo of large, multizone rooftop units (RTUs) were left in place, with a third unit of the same type added during the renovations. This inefficient HVAC system wasted energy and money, led to inconsistent temperatures, and caused severe occupant discomfort.
VHE DOAS systems generally cost $14-18/sq ft to install.
*Cost estimates based on information received from several existing projects and are subject to variability.
Cost-effective, energy efficient technologies