Having the right team in place was critical to reaching an end result that met all the assorted requirements of our move: creating a productive space for a growing organization, representing the NEEA brand, demonstrating our value to our funders, and – not least – walking our talk by creating a showcase energy-efficient, green office. Each partner brought something different to the table, but each came to the table with the understanding that decisions would be considered through the lens of sustainability. Even with the most significant decisions of all (the location, space plan, and lease structure among them), energy was always at least part of the discussion. Just as sustainability influenced each decision, the corollary is also true: each decision will impact the future environmental footprint of our location in one way or another.
With so many goals – some competing and some complementary – the process was bound to include some tradeoffs. But with a cross-functional team in place to consider all the angles, we were able to find synergies and capture value in areas where a more "siloed" team wouldn't have. For example, at the same time as our new space was being identified and designed, NEEA's strategic planning team was creating a vision for our growth as an organization, which would necessitate creating a more collaborative workspace. With that viewpoint represented at the table, we were able to translate the vision for growth into an actual space design that will meet our growing workforce's needs.
Here are the team members that collaborated to make NEEA's new offices a reality:
The Inner Circle
The core internal team consisted of Lloyd Johnson, a consultant working nearly full time on the move; Susan Hermenet and Suelynn Callahan, NEEA's business operations managers; and Jack Davis, the BetterBricks office real estate program manager. These individuals drew upon and coordinated the expertise and guidance of other NEEA stakeholders, and together they represented the needs of the "tenant."
NEEA employees: Though Jack was engaged to represent the incorporation of innovative energy and sustainability goals into our lease, he also ultimately served as one of the staff representatives on the core team, giving a voice to the broader needs and interests of NEEA employees. When employees expressed concerns about lack of privacy in an open workspace, for example, Jack and the team addressed the issue by incorporating "phone booth" offices – quiet locations to take private calls – into the design.
 
Executive team: Though this team drove the program requirements, NEEA's executive directors played a role in decision-making upon being presented with various options for buildings, lease components, and space designs. Their support was crucial in incorporating innovative elements into the lease, especially since some (such as our advanced, highly efficient lighting system) came with added expenses. Bearing in mind NEEA's mission to test out new energy-efficient technologies that aren't yet the industry standard, our executives supported the lighting design despite the costs it added beyond our TI allowance.
 
The marketing department: Becca Yates, one of NEEA's marketing and communications specialists, was recruited to help us create a space that appropriately reflected and embodied NEEA's brand, from concept to color palette.
Building the Network
With the internal team established and initial goals in place, NEEA recruited outside partners to help solidify the program requirements and intended outcomes of the move. Besides building on the groundwork our internal team had already laid, they also contributed their unique experiences and ideas to the process.
The interior designer and space planner: The team held a charette to enable the staff to identify their ideal office environment. Not surprisingly, there were tensions between the desire for privacy and the need to create a collaborative work environment with plenty of open space and natural light. The lucky man selected to sort that all out was our interior designer and space planner, Paul Gibbons of WGS Design. His job was to help us develop the fundamentals of our "program" – what we wanted to accomplish with our space – and orchestrate the give-and-take that would get us there, calling upon the other team members' expertise for various components.
 
The brokers: The broker selection process included interview questions about sustainability aptitude, so naturally the brokers ultimately chosen to manage our search and leasing process (Mike Holzgang and Gordon King of Colliers Portland) were very enthusiastic about its green aspects. In the environmentally-conscious Pacific Northwest real estate market, they recognized that assisting with a successful green lease was a good business move. Based on experiences with another client that had similar sustainability goals, they were able to help us understand whether certain landlords would or wouldn't be receptive to the introduction of innovative lease concepts, and whether the open workspace idea would work as well in reality as in theory. One of the most important things our brokers brought to the table was the extended team they assembled – including Paul.
 
Building ownership and management: Eventually, Unico Properties, the landlord and property management staff of the selected building, became part of the extended team. Their willingness to engage with NEEA to help us reach our energy and sustainability goals was a significant factor in our choice of buildings. For example, they allowed us to install a bicycle storage room on our floor (an unusual component of tenant improvement but one we felt was vital to our low-carbon culture) and to use lighting technologies that deviated from the building standard. They also funded the sub-meters that will allow us to closely monitor our space's own utility consumption, ensuring that the actual data reflects the investments made to create a highly energy-efficient space.
Other external team members included LEED consultants and the Energy Trust of Oregon, which provided rebates. We also pulled in product suppliers and furniture designers, all of which were considered in the context of their sustainability expertise; at least one, Herman Miller, was selected because of it.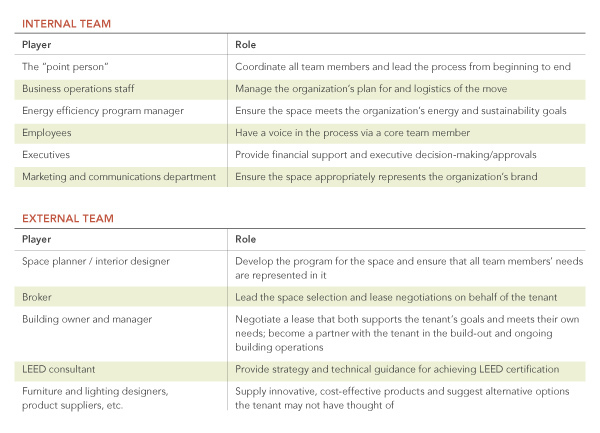 If I Had to Do It All Over Again…
The cross-functional team was highly successful, but we didn't get everything right the first time! Here are some of our lessons-learned, including what we did right and what we might have done differently:
Pick a point person. Communication challenges could be a shortfall of having a broad, multi-disciplinary team. It's not always possible to involve every single team member in every meeting or decision, and everyone has other tasks on their plate. To make sure nothing gets lost in translation or slips off the radar, it's helpful to have one point person (in our case, Lloyd) to be the eyes and ears into every piece of the process.
 
Foster inclusiveness. Make sure that the external team members know that their advice is welcome and valued – they shouldn't feel that they have to hold back.
 
Lay the groundwork early on. We knew from the start we wanted a model energy-efficient office. If we had instead decided to pursue aggressive energy goals a few months into the process, it would have taken much more time and effort.
 
Take a birds-eye view of your organization. Step back from the task at hand and consider who else in your organization should be involved, looking down the road at future phases of the project. It's never too early to invite someone to participate, even if their participation is only tangentially required at that phase. Also look across your company at other significant initiatives underway. Is there anything going on that the move's timing or strategy should tie into? In our case, the move coincided with a rebranding initiative – an excellent opportunity to tie together our new space and our brand identity.
 
Get an executive on your side. Invite an executive-level decision-maker to be closely involved. You'll have an "in" with the rest of your company's senior management. He or she can help you set realistic boundaries for what management will and won't approve (or help you frame the options in advantageously to increase the chances of approval).
 
Don't forget about your staff. New offices are a big adjustment for some employees. In our case, many will have less personal storage and less privacy with our open workspace design; some didn't think that the resulting energy savings and natural light were worth the tradeoff. We had to continually remind employees of the mission-driven reason for the space plan and other aspects of our building selection and leasing process – and to continually listen to their input and feedback.
The Bottom Line
At each step of the search and leasing process, energy efficiency and sustainability were significant pieces of the discussion. With a collaborative, cross-functional team in place to weave these considerations into the decision-making process, we pulled them together into a cohesive whole – and created our new home.