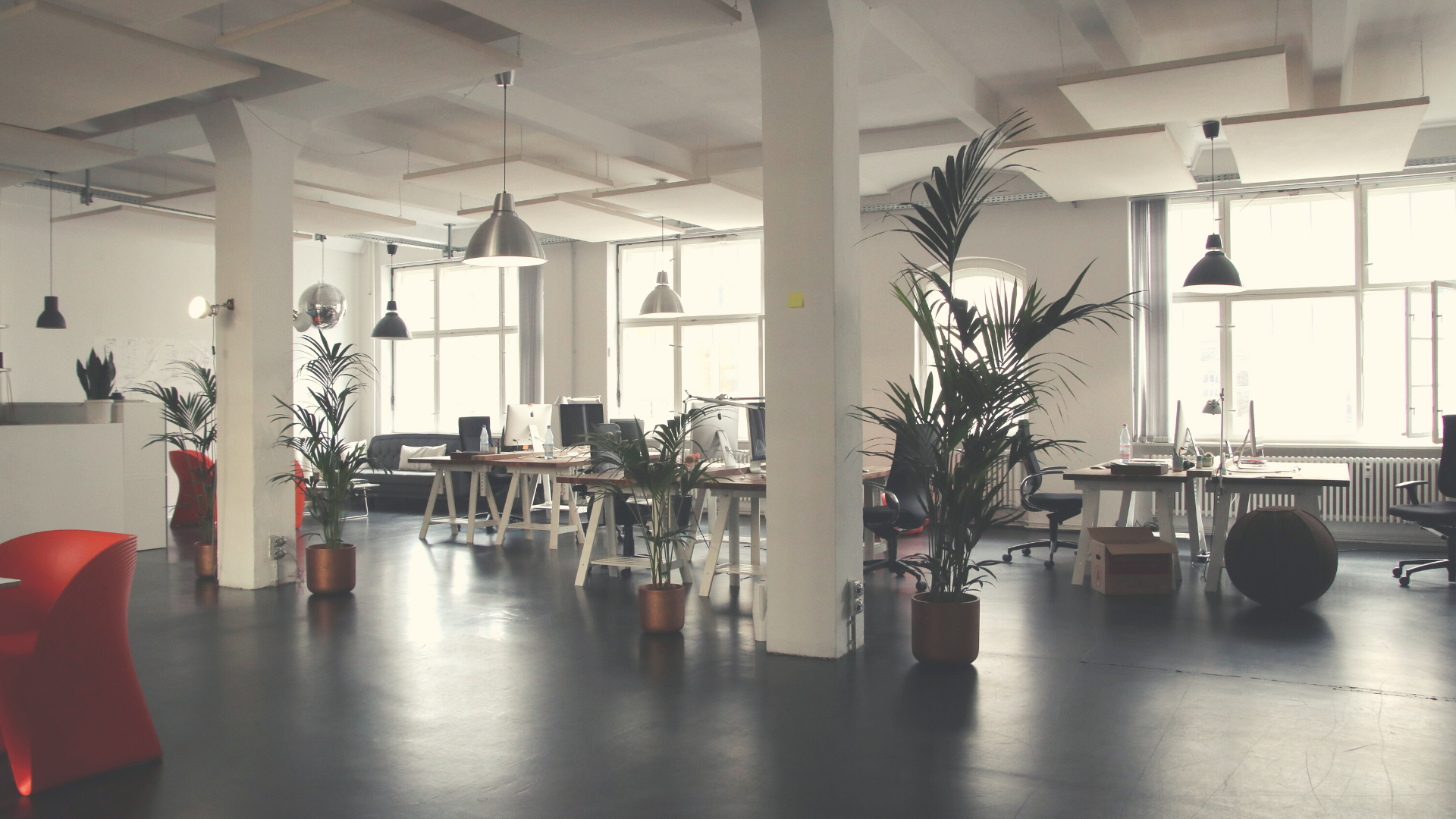 WHERE WE'RE AT: 2020 IN PERSPECTIVE
The COVID-19 pandemic brought an unprecedented shift in the way many define a workspace or office. With millions of Americans teleworking at some point during the past six months, the future of the commercial office sector shifted suddenly. AIA has estimated that $79 billion was spent on office construction in 2019 – notably higher than 2016's $65 billion. That forward momentum will come to a halt with an expected 11% decline in office construction spending this year and almost 8% in 2021.
HOW WE GOT HERE: CONSTRUCTION DELAYS
Demand for construction deteriorated swiftly as the pandemic forced people into their homes during the spring of 2020. An AGC survey reported an employment decline of 975,000 construction jobs in April, 2020 alone. Of the jobs that remained, 67% of firms reported having a project canceled or delayed since the start of the outbreak in early March. Most of these firms, however, delayed construction for safety reasons or state mandated quarantines. One third of firm owners canceled projects because of a predicted reduction in demand.
Previously funded critical infrastructure or public building contracts are expected to move forward and generate some momentum for the sector but, according to NAIOP, private owners can expect that most new contracts will only move forward if they can demonstrate a prominent connection to fighting the pandemic. While start delays may be slowing down the industry, their prevalence is projected to be short-lived – a survey done by the NMHC reported 96% of construction firms in the multifamily sector are experiencing delays less than 12 months long. The demand for commercial real estate construction inarguably fell due to COVID-19, but the future of the sector remains bright.
THE ROAD TO RECOVERY: ECONOMIC FORECASTS
Economic forecasts are comparing recent events to the 2008 Global Financial Crisis to see what the industry could expect moving forward into recovery. The ABA noted that reforms undertaken as a result of the 2008 crisis appear to be working effectively and are enabling banks to act quickly and actively become part of the COVID-19 solution. The banking industry entered this pandemic-fueled financial crisis with strong capital and liquidity buffers to help fight through the adversity.
The hope is that COVID-19's impact on commercial real estate market conditions will be relatively modest in comparison to 2008 because of these factors. Experts, however, expect a few rough years ahead as the market regains its footing. According to Moody's, the office market in particular may reach a record high vacancy rate of 20.2% in 2022. This vacancy rate accounts for the anticipated increase in companies anticipated to turn to teleworking and ambiguity on how much space is needed while social distancing remains the norm. The historic high was 19.7% in 1991 and the recent peak in 2010 was 17.6%. ULI projects office rents to decline as well. After a 4.7% increase in 2019 (well above the 20-year average of 1.5%), rent is expected to decline about 5% in 2020 as tenants scramble to renegotiate leases and cover costs. Projections suggest that rates will remain steady in 2021 and shift positive again in 2022 at 2% (slightly above the long-term average).
THE FUTURE IS BRIGHT
COVID-19 will continue to cause construction delays over the next two years – even after quarantine policies are lifted – because of the uncertainty of reinfection. Without a credible and reliable treatment and widely available vaccination protocol, Moody's predicts that economic uncertainty will likely remain, bringing challenges to new construction in the commercial real estate sector. Fortunately, most projections expect that office construction will stay relatively stable after the initial drop-off this year. Design aspects like co-working setups or providing more space between desks may impact demand, but the need for spaces to professionally collaborate, which offices provide, is not expected to go away. Offices may look and act differently in the future, but these spaces will continue to remain prevalent in the commercial real estate industry.