On November 17, the jury for the AIA Portland Architecture Awards selected the RMI Innovation Center to receive the 2030 Challenge Award. This award, sponsored by BetterBricks is in its 9th year. The jury of 3, all from Boston-based firms, picked RMI's net positive energy 15,610 square foot office building in Basalt, Colorado designed by ZGF-Portland with engineering by PAE. It far surpasses the Architecture 2030 Challenge's 2016 target of 70% reduction in energy compared to CBECS 2003 and surpassed the energy performance of all other projects submitted this year. Quite a feat for a project located in Colorado's high mountains.
Completed in December 2015, the building, according to RMI, "is the most energy-efficient building in the coldest climate zone in North America, with a predicted energy use intensity (EUI) of 17.2 kBtu/sf. The project now has almost a full year of operational data.
"The Innovation Center is not about technology, but about design. This building achieves beyond net-zero energy because we have gotten better at choosing and combining technologies to maximize building performance." --Amory Lovins
Photos courtesy of Tim Griffith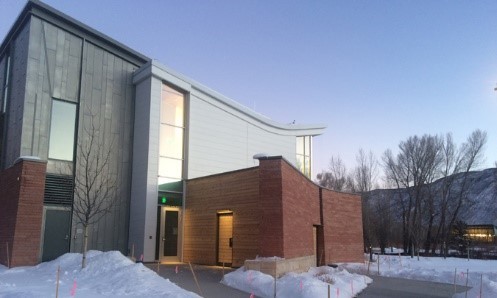 Its success is due to aggressive passive design measures which enabled the elimination of mechanical cooling and reduced mechanical heating to a small, distributed system equivalent to one average size home. The building is a PassiveHouse certified, and expecting Living Building Petal status from the International Living Future Institute.  For more information on the numerous features and certifications, go to RMI's website http://www.rmi.org/innovationcenter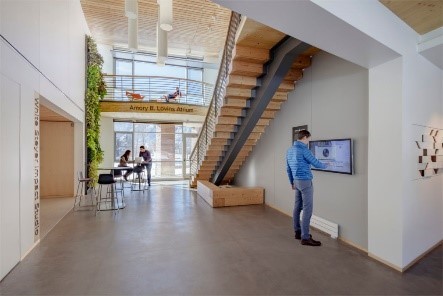 BetterBricks sponsored the award and staff at Brightworks provided technical analysis of all submittals. Of the 61 submittals, 53 were eligible for the 2030 Award and 13 projects (25%) in that group met the current 2030 Challenge target compared to only 6% of reported projects nationally. They all provided energy performance and carbon reduction calculations that were verified by Brightworks. The average reduction over the 2030 Challenge baseline (CBECS 2003) of all 53 projects was 44%.  While the reduction from the 13 meeting the current Challenge target was 86%.

More information about the 2016 Awards and other winning projects can be found here: